Big News…
The 2015 harvest was higher than normal in yields so we were able to make 400 cases of wine instead of the projected 300 cases. And since our focus is on making wine for you to drink and not wine for us to store we have decided to offer additional discounts on case reorders. This is a win/win. You get an incredible price on our wines and I don't have to write a check to the warehouse lady. Truth be told, I'm old friends with the warehouse lady but I think she has more money than me… so...
From now until January 1st order a case of wine (12 bottles) and receive a 30%-50% discount off the retail price of the wine. The case can be mixed. Two Driven, six Milestone, four Choice & Chance… any combination you want.
If you are a 12 or 6 bottle member you will receive a 50% discount off the retail price. That would make it $22.50 a bottle. If you are a 3 bottle member you'll receive a 30% discount or $31.50 a bottle.
FINE PRINT: We can only offer this special for as long as the "extra" wine exists.  So don't dilly dally with ordering.
You Can Order Wine OnLine…
It's been made clear to us that some of you never got the memo that you can order wine online. I'm not sure how that happened but lets set the record straight… It's impossible to know exactly how many cases of wine you will produce from year to year because there are so many variables, so we always try to produce slightly more wine than we need for two shipments to each member. Any additional wine is then available on our website for as long as it lasts. In short, after the release of a vintage there is ussualy additional wine available on the website.Click this link and I'll show you:  LEVEL 3 WINE SHOP
Club Membership Is Open…
Now that a few vintages have gone by we have a better feel for the average amount of wine we will produce every year and it's slightly more cases than we projected, so if any of your friends want to join the club, the membership is open for a few more members. Or perhaps you've been thinking you want to increase your membership. Three bottle to six or six bottle to twelve. Now's the time.
Third Generation Winemaker… Bragging On The Grandson…
The kid is a natural. Check out the video of him checking grapes in our vineyard, it's epic! Check out the video here: Future Winemaker
Don't forget…
We have a facebook page. Check it out here: Level 3 Facebook Page
And if you want… Instagram… Normlevel3wines
Level 3 Is Proud To Announce…
Susan Benson has been elevated to assistant Winemaker! After decades of being at the highest level of upper management here at Level 3, Susan has been chosen to fill the critical job of Assistant Winemaker. After years of begging to have the job, I finally caved and gave it to her. Of course if you ask her how this came to be she's going to give you some fabrication about how I snuck away to go car racing and she was stuck doing the punch downs. I think you all know whom to believe…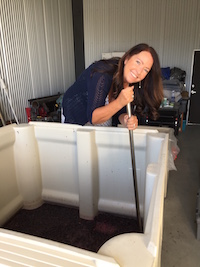 Susan punching down our Denner Syrah.
My Thoughts On the 2015 Wines...
First the Geeky stuff:
2015 Driven: 46% Cabernet Sauvignon / 39% Merlot / 15% Cabernet Franc
                           A/V 14.8%, pH 3.68, TA 0.698 mg/100ml, 30% New French Oak
2015 Milestone: 70% Syrah / 15% Grenache / 15% Mourvedre
                          A/V 14.7%, pH 3.76, TA 0.712 mg/100ml, 30% New French Oak
2015 Choice & Chance: 43% Cabernet Sauvignon / 43% Syrah / 14% Petite Sirah
                         A/V 14.6%, pH 3.82, TA 0.701 mg/100ml, 30% New French Oak
So… I'm really liking the wines at this point. They are really big and chewy. '15, as a general statement, was slightly more tannic than 2014. They could use some more bottle age to tame the tannins. I would recommend decanting the wines for a couple of hours prior to drinking them for now and the next 6-12 months. Let them breathe and oxidate a little. This time next year you can pop the cork and let it rip! They will age for 7-12 years if you can hang on to them that long. I know I can't! These are some really big, beautiful, wines… I seem to say this a lot, but, these might be the best wines I've ever made.
My Thoughts On The 2014 Wines…
Every time we open a 2014 I get a bigger smile on my face. These wines are really developing nicely. The tannins are mellowing and integrating and the fruit is really showing up nicely. Bravo Normie! You didn't screw this vintage up! They will age nicely for the next 7-10 years. If you don't mind, bring a bottle by in ten years so I can try it. For sure I won't have any left!
Pick-Up Party…
So I know this is sounding like a broken record but we really are going to do a Pick-Up Party! It'll be in October of 2018. We have decided to do it in our vineyard in conjunction with the release of the 2016 Vintage. It will be a grand affair and I will undoubtedly spend more money on it than Susan would like. We've decided to do it in October because the vineyard will be gorgeous and full of grapes instead of March when the vines will be bear and look like the surface of the moon. Another good reason to do it in October is that it will be during Harvest and many of the other wineries you'll visit that weekend will have interesting things going on. We've have also decided NOT to do it in conjunction with the Paso Robles Harvest Wine Weekend because it's a zoo that weekend and it's almost impossible to get hotel rooms. So we'll keep you posted when we lock the date down. We're really looking forward to hanging out with you guys! It will be an event not to be missed.
The World According To Norm…
"Nothing sucks more than that moment during an argument when you realize you're wrong." 
It Goes Without Saying…
Susan and I are grateful for all the support you have shown us and our new venture, Level 3. We truly appreciate the many emails you have sent us as you enjoyed your first samplings of Level 3. We love hearing from you.