The Acorn and The Grandfather Tree…
I have no idea how this kid came to love cars AND likes them all in a nice straight line. Go figure?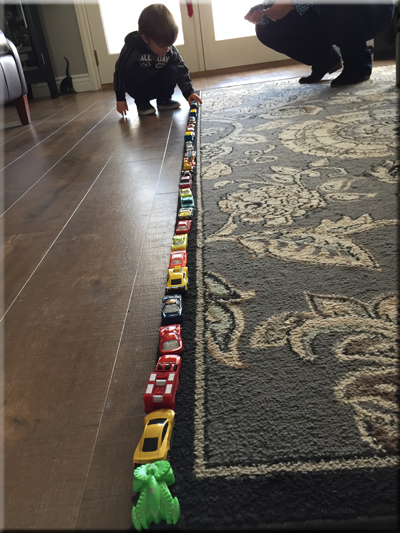 Case Re-Order Special…
We have a few cases remaining of the 2015 Vintage so we are able to offer the Case Re-Order Special. As you recall, order any twelve bottles, mix and match, and we will extend a 50% discount off the retail price of the wine for 12 and 6 bottle members and a 30% discount for 3 bottle members. All three wines for as little as $22.50 a bottle. There aren't that many cases remaining at this point so don't dilly dally around or you'll miss out. The Special will end June 1st.
News Flash… It's Really Happening…
Save the date! October 13, 2018! The first annual Level 3 Pick-Up Party from 3-6 p.m.! It's really happening! Food, wine, live music… the whole shebang. We chose the 13th because it's the weekend before the Harvest Tour festival here in Paso and you'll actually be able to get a room!
We are having the party in our vineyard at the shop. With any luck at all I'll have something fermenting we can all play with. October is a wonderful time to visit as it's in the middle of Harvest. There's lots of stuff going on at all the wineries and there's plenty to see and do.
In August we'll send you an email invitation you can RSVP to. Susan and I are really excited about hanging out with you all!
The Other Thing…
The second passion is going well. I've really enjoyed the last twelve months racing. I'm getting faster and I've managed to not see the inside of an emergency room yet! I did some racing back in the 70's and 80"s and it's been a blast to get back into it. Oddly enough it seems I'm not willing to take quite as many risks at 61 I was willing to take at 25. That's the upside. The downside is, that makes you slow!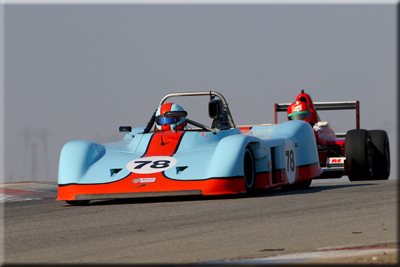 How Early Is Too Early…
I became one of the "cool kids" this Harvest by picking my grapes before sunrise. We start at 4:00 and we're done by 7:00 when the sun is coming up. The reason for this ridiculous behavior is that you pick the grapes when they are about 40 degrees and can get them destemmed and in the fermenter ice cold allowing for long cold soaks before fermentation. It's all very cool (pun intended). Besides I'm getting "street cred" with all the young gun winemakers! I'm now the "old fart who gets it".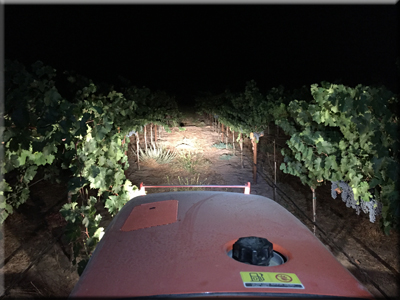 Tell Your Friends...
We still have a few openings in the Wine Club. If you have friends that like our wine, let them know.
We're Here, Usually…
If you find yourself here in Paso, give us a call. If we're around we'd love for you to stop by and say hi.
As Always…
Susan and I want you to know how grateful we are for your support. We appreciate you being a member of Level 3.